Revamping of a refined sugar production site in Ivory Coast
Sector
Sugar cane operation, production and marketing of refined sugar.
Challenge
Our customer wanted to take advantage of a maintenance period to revamp one of its refined sugar production sites in Ivory Coast.
The stakes were high since a large quantity of steel (in different grades and products) had to be transported in record time - before the production lines were shut down.
Process
We have been working with this customer for five years, and we visit them at least twice a year.


It was during one of these visits that our customer informed us of the revamping project of one of the production sites in Ivory Coast.


The customer sent us a detailed list of requirements for costing


We sent our first quotation


Following some technical exchanges, the request was revised, and we adapted our offer accordingly


Negotiation, award and fine-tuning of the final technical and logistical details.


Preparation of the order in our warehouse and dispatch of the materials to the Port of Antwerp for loading.


In constant communication with the customer and its logistics department, the equipment was unloaded at the Port of Abidjan within six weeks of the order.


After-sales follow-up, including sending the materials certificates.

Products offered
Grades
Products
Specifications/Standards/Comments
S195T
P265 GH TC1
A234 WP B
P250 GH
S235 JR
450 HB

Pipes, flanges, welding accessories, sheets and merchant steel

Welded galvanised steel tubes according to EN 10255 M

Seamless steel tubes according to EN 10216-2

Welding accessories according to ASTM

Steel flanges according to EN 1092-1

Merchant steel (IPE, UPN, flat, rounded corner pieces, etc.)

Square carbon steel construction tubes

Sheets, perforated sheets and embossed steel.

Anti-abrasion sheets

304L
1.4003

Tubes, flanges, round accessories and sheets.

Welded tubes according to ASTM A312

Seamless tubes according to EN 10216-5 et ASTM A213

Flanges according to EN 1092-1

Seamless accessories according to ASTM A403

H9 cold-drawn round steel

Ferritic steel sheets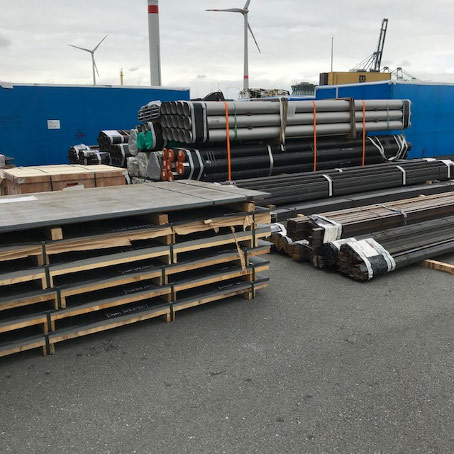 Since this quantity and the diversity of products are not available on the local market, our customer called on VM Steel for this specific supply, given the extent of our stock of steel products in Belgium.

Our stock combines tubular products, fittings, flat products and long products in both carbon steel and stainless steel grades. This unique offer made it possible for us to meet all of our customer's needs in terms of products and grades.

Furthermore, all our stock products are of European quality and are delivered with the necessary materials certificates testifying to this quality, complying with the strictest international standards.
Given the financial stakes involved in shutting down the sugar industry production, it was essential that the equipment be delivered within the tight deadlines imposed by our customer before the production lines were completely shut down. Our strong experience of 40 years in large exports combined with the know-how of our logistics department enabled us to ship this merchandise over a period of 6 weeks, delivered to the port of Abidjan, in accordance with our customer's expectations.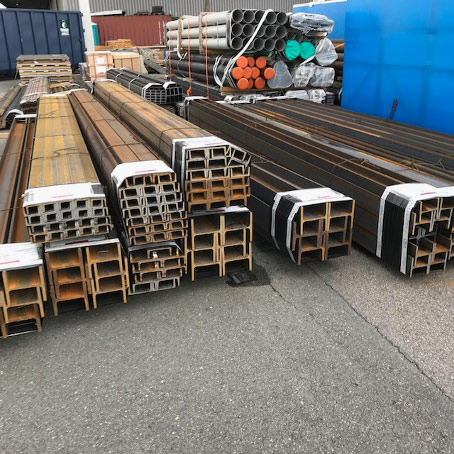 Total steel: 680T in carbon steel and stainless steel
A combination of two orders into one

Delivery to Abidjan within six weeks